Bardoka Sheep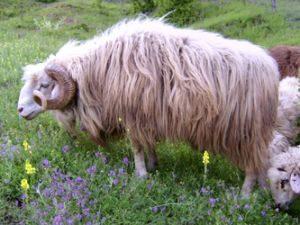 The Bardoka Sheep is a domestic sheep breed found in the Metohia region of Kosovo. Its name is derived from the Albanian word "Bardoka", meaning white. The breed can adjust itself to varied environmental conditions, especially cold weathers; however, it cannot tolerate high humidity.
Also Known As
White Metohian Sheep, White Metohija Sheep
Physical Characteristics
White with pink skin; both, male and female are horned
Weight
Rams:65 kg (143 lb) at maturity
Ewes: 50 kg (110lb) at maturity
Height
Rams: 70 cm (28 in) at the withers
Ewes: 60 cm (24 in) at the withers
Uses
Milk, meat, and wool production, as well as for research
Country of Origin
Kosovo
Distribution
Kosovo, Montenegro, Serbia, and Albania
Milk Production
The lactation period of the ewes continues approximately for 180 days. Considered one of the highest milk-producing breeds, it provides 200 pints (100 lits) of milk with around 7.1% milk fat.