Charollais Sheep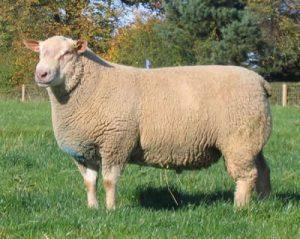 Charollais sheep is a medium to large domestic sheep, originally from east central France. It has gained huge popularity internationally as a provider of high-quality meat.
Physical Characteristics\
Wedge-shaped long and heavily muscled back; pinkish-brown head devoid of wool; both males and females are polled; short brown legs are usually not covered in wool
Personality Traits
Docile, easy to handle, rams are hard-working, ewes are caring mothers
Weight
Ram: 100 – 150 kg

Ewes: 80 – 100 kg
Uses
Meat production
Lifespan
10 years or more
Wool
Fine to medium dense
Diet
Fresh grass, other forage, pasture vegetation
Country of Origin
France
History and Development
The Charollais Sheep had its origin in the early 1800's in the Charolles and Saône-et-Loire region of France – the area famous for Charollais cattle. It is developed from crossing British Dishley Leicester with local landrace breed. The breed is mainly used as terminal sires. The Charollais rams are bred with ewes of other breeds to produce lean, fast growing lambs. The breed gained immense popularity after it was first imported from France in 1976. At present, it is among the three most numerous terminal sire breeds in the United Kingdom.
Meat Production
The carcass of the breed is lean and well-fleshed, producing large amounts of excellent quality meat. Moreover, the popularity of the breed has grown due to its easy lambing and fast growth rate.
Management
The management of the Charollais Sheep is entrusted with one of the most progressive societies of the United Kingdom. The goal of the society is to develop, promote and improve the breeding of Charollais Sheep in the UK. The society organizes various projects and events to improve the quality of the breed and boost its use among commercial farmers. It also holds meetings and conferences to inform breeders about the new developments in the lamb industry.
Video: Charollais Sheep at Kelso, Scotland