Chester White Pig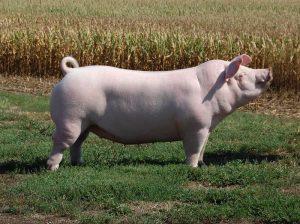 The Chester White Pig is a breed of large, fatty pigs that originated in the United States of America. This is a domestic breed that actively takes part in commercial crossbreeding operations for pork in the country. Though not as well-known as the Yorkshire, the Hampshire, or the Duroc pigs, they are a versatile breed and are perfect for both intensive and extensive pig farming.
| | |
| --- | --- |
| Physical Description | A large overall appearance with fatty characteristics and features but with relatively thinner but stout legs; the head is big and has overlapping ears |
| Skin Color | White, pinkish white |
| Temperamental Traits | Docile |
| Tail | Long, twisted |
| Uses | Meat production |
| Weight (Size) | 227-295 kg (average adult boar and sow) |
| Diet | Enjoy eating table scraps like potato skins, corn husks, or any other vegetable, soybean meal and corn with a combination of minerals and vitamins mixed in the diet |
| Country of Origin | USA |
History and Development
Between 1815 and 1818, the Chester White pig was first developed in the United States as an independent breed by mixing the Woburn pig with the local white pigs. The Woburn was a white boar that was imported by Captain Jefferies of England's Liverpool from the Duke of Bedford (Bedfordshire County in England), John Russell.
Later, in 1848, a breeder from the Chester County and another one from the Delaware County showed their two breeds at a county fair, wherein the show judge named the new breed as 'Chester County White'. The word 'county' was eventually dropped, and the breed got its name – the 'Chester White'.
Almost after four decades, an association dedicatedly for the Chester White was officially founded in 1884. In 1891, another breed association with 51 members in the board of directors, named the 'International Ohio Improved Chester Swine Record Association', was formed that officially named the breed as 'Ohio Improved Chester' (OIC). In 1913, the 'American Chester White Record Association' (1885) combined with the 'Standard Chester White Record Association' (1890) to form the 'Chester White Swine Record Association'.
Meat (Pork) Production
This breed grows very rapidly and can gain as much as 1.36 pounds (0.62 kg) a day and gain 1 pound (0.45 kg) for every 3 pounds (1.4 kg) of grain it is fed. An average adult can yield anything between 500 and 650 kilos of meat (live market weight). The meat is known for its high fat content and savory taste.
Interesting Facts
Some historians hypothesize that Chinese pigs had also been added to the Chester White.
The pale body color often leaves sunburn on their skins, and hence they need access to shade in the summer.
The Chester White pig is the most durable of the white pig breeds.