Acipayam Sheep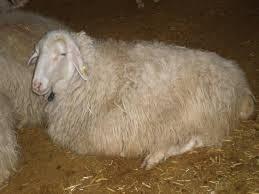 The Acipayam Sheep (Acıpayam Sheep) is a crossbred domesticated sheep that was developed in Turkey. They are farmed both for their high-quality wool as well as meat. Because their production rate varies widely, selective breeding programs have been suggested to be implemented to keep the population stable.
Physical Characteristics
Height at the withers is 61.4 cm, with a chest girth of 71.3 cm and depth 26.6 cm. Height at the rump is 59.9 cm, while the cannon bone circumference is 4.2 cm
Coat Type
Coarse
Wool Color
White (both male and female)
Face Color
White
Uses
Dual purpose: Wool and Meat Production;
also for Milk
Lifespan/Expectancy
10-12 years
Weight (size)
Ram: 65 kg;

Ewe: 60 kg
(Average)
Survival Rate
Ram: 82.35%

Ewe: 92.30%
(Adult sheep by age 6 months)
Body Length
55.2 cm (average for rams and ewes)
Diet
Stubble of cultivated crops, tree leaves, fodders and grains
Country of Origin
Turkey
Ancestors
Assaf, Awassi, Daglic sheep breeds
Distribution
Primarily in the 'Ege' region of Turkey
History and Development
The Acipayam sheep was developed for the first time by crossing the Assaf breed of male sheep crossed with the Awassi and the Dagliç females.
Meat Production
The weaning begins at around the age of 45 days, while the lambs mature by the age of 6 months and are usually ready to yield mutton (meat). A 6 month old young adult can produce around 28 kg of mutton, while a full grown adult can produce about 60-65 kilos (live weight).
Milk Production
On an average, an adult ewe can produce around 906.2 gram daily during the entire lactation period. The lactation period of the female Acipayam lasts for around 200 days. The total milk production during this period is about 170.5 kg.